Mujey Dil Se Ek Sada Do


WS - Tu Bhul Waisain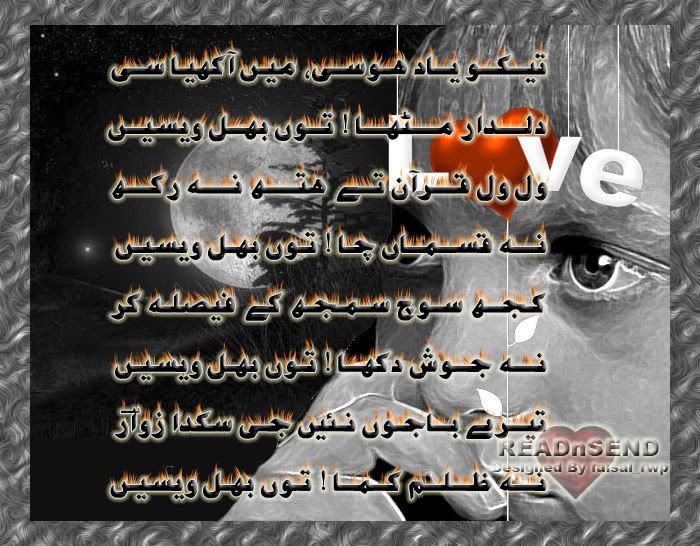 ik choti si reuest...!!
salam 2 all...!!

mujhe yeh shair design karwana hy siggy k liye
ap main say koi kar dain plz

chup chup k jahan sy AQA(s.a.w) ko dekh sakon main
JANAT main muje aisi jaga mre KHUDA dy....!!


wasalam,
Mahi..!!



WS - Tu Bhul Waisain








.





~*~*~Tumhae Bholny Ko IK Pal Chahye~*~*~





Ashiyana





Abhi Kutch Oor Din Tahero.....





kabhi usy b....jam1
hi guys hopu like it .
n reply.



design this for me
plz design this for me , thora jaldi sey


siggy size ka chahiye bohat hi pyara sa ziada bara na ho


Aap ki naatein mai likh likh ker sunaon apko
kis tarah razi kerun kasey manaon apko

bey-amal hon maghfarat ka ek sahara hai zarur
apka her ek sahabi jaan sey pyara hai zarur

khaliq-e arz-o-samah sey ab dua kijiye huzoor
meharban ho jaye mujh aasi per rab-e-ghafoor



jeewan ki nao (TILSIM)
meri pehli koshish. . . . . . . . . .



Shair ( Shayan BUtt)


AoA to all janab yeha ik shair banaye ke koshish ke hay Shayan jee ke request per app dekhiye or bataiye kaisa hay bas je khuch ban gaya
Shayan jee ager pasand na aye to bata diye ga main khuch or try ker longeee okz
or intezar fermane ka shukriyaaa
With Corners
Without Corners
comments ka intezar rahe gaaa dil khool ke shroo hojayeee
Download Free Books
Urdu Books: Afsanay - History Novels - Mutafariq - Novels - Shayari - Urdu Poetry - Tanz o Mazah
Islamic Books: Tafseer Al-Quran - Hadith - Hamd o Naat - Understanding Islam
English Books: Biography - for Kids - History - Motivational - Philosophy - Sufism
Video Channels
Islamic & Religious - Urdu Mushaira - Mazahiya Mushaira - Punjabi Mushaira
TV Drama & Shows - Funny & Action - Pakistan Politics
Entertainment & Other Channels
Photo Gallery (over 110,000 Images) - Create Blog - Paly Games (4000 Games)
Gup Shup - Mohabat Kadah - Jokes n Jokes - Kitchen Corner
Lifestyles - -Sport & Games - HallaGulla Media - Snap Shots
__._,_.___
If you do not wish to belong to hahamailz, you may
unsubscribe by sending an email to
hahamailz-unsubscribe@yahoogroups.com
Change settings via the Web
(Yahoo! ID required)
Change settings via email:
Switch delivery to Daily Digest
|
Switch format to Traditional
Visit Your Group
|
Yahoo! Groups Terms of Use
|
Unsubscribe
.
__,_._,___